Joined

May 26, 2013
Messages

2,362
Folks,
As the future of parts for our bikes is uncertain I'm collating a list of alternate parts for 961's. This is purely a list, so please don't start commenting, comparing one against the other or generally derailing (as has been know to happen on the odd occasion here)
I've already mentioned this to Jerry and if we can keep it in a common format he will see about putting together a sticky list. So here is what I've got together so far. Feel free to add, but please just the description, manufacturer and their part number plus any helpful notes as you see below. Alternatively just P.M. me and I will add to the list. (It will probably be neater that way actually)
AIR FILTER
BMC FM983/08
OIL FILTER
Mann HU610X
Bosch P9147
WIX WL7227
OIL FILTER COVER O-RING ( Dimensions 66mm ID x 2mm )
McMaster-Carr Part #
1009CINC
CLUTCH PARTS
Friction Plates EBC CK2255 (same as Yamaha TDM850 & other Yamaha)
Springs EBC CSK126
Complete Clutch Set EBC SRK51 (Steel Plates , Friction Plates , Springs)
Clutch holding tool EBC CT008SP (same as Yamaha FZR750)
Alternate clutch holding tool ( cheaper than the EBC one)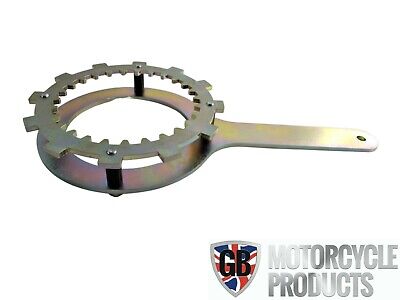 Norton 961 2010 onwards. This tool is suitable for the following Norton model;.
CUSH DRIVE RUBBERS
Talon TCDR-1 (use Silkolene Pro RG2 racing grease)
AIR PRESSURE SENSOR
Yamaha 1WS-82380-00 (Has a green sticker)
SPARK PLUGS
NGK CR9E (standard - threaded tip)
NGK CR9EB (standard - solid tip)
NGK CR9EIX (Iridium)
CAM SENSOR
Bosch 0232103037
HEAD TEMP SENSOR
Bosch 0280130026
Honeywell ES120-0030
TIP OVER SWITCH
Triumph T2502405 (Switch , Fall Detection)
RELAYS
Honda 38502-MCS-G01
Omron G8HN-1C4T-RH
Durite 0-728-13 ( reportedly these are prone to failure).
Bosch Automotive 332201107
IGNITION COIL PACK
Bosch 0221503035
BRAKE PADS
FRONT (Goldline radial calipers with 4 pads USD forks)
Goldfren 177
EBC FA322
Brembo 07BB33SA
Lucas TRW MCB721SV
FRONT (Brembo axial non USD fork)
Goldfren 141
EBC FA244
Brembo 07BB33SA
FRONT (grey radial caliper USD forks)
EBC FA630HH
Goldfren 328
Lucas TRW MCB856SV
REAR (all models)
EBC FA266
Brembo 07BB20CC
STARTER MOTOR (same as Buell Blast & Harley Sportster)
Nippon Denso TN128000-8453
Harley 31391-91 (same as Buell Blast)
ALTERNATOR
Rotor
Norton 530001
Electrex World RO961
Stator Generator with Crank Sensor
Norton 5300003
Elextrex World G961
FUEL PUMP
Bosch 69613 (0 580 453 407) It requires a 1/2" tubular spacer - the white piece in this image.
FUEL PUMP CONNECTOR (That's the red piece in this image.)
Ford 1072003 or 1330328
Gutsibits FUA30000
FUEL PUMP O-ring
McMaster Carr # 1295N668 (Chemical-Resistant Viton® Fluoroelastomer O-Ring 5 mm Wide, 90 mm ID)
FUEL PUMP SPIGOT
Dorman part no. 800-123 (
https://www.dormanproducts.com/p-49076-800-123.aspx
)
FUEL PRESSURE REGULATOR (Make sure you have the right pressure setting. 3.5 bar)
Ducati 28340031A
Aprilia (tbc)
Cycleworks
SKU
FPR35KCA (KTM Husaberg
https://ca-cycleworks.com/fpr35k.html
)
FUEL FILTER
MAHLE KL 145
THROTTLE POSITION SENSOR (TPS)
Harley-Davidson 27629-01
Twin Power 933-1006
FUEL INJECTOR NOZZLE
Intermotor FJ647
IDLE AIR VALVE / IDLE AIR MOTOR
Lowe 57177
Magneti Marelli 8001063373638
Siemens / VDO D95177
INDICATOR
Aprilia 349582 (also fitted to many Triumph)
Last edited: