Joined

Aug 16, 2016
Messages

1,789
I recently bought a new tool on ebay - good brand - Knipex
It is sort of a cross between multigrips (??) and a shifter (adjustable wrench?)
It is great because the little triangular windows (each side) tell you what size you have selected (Metric or SAE).
The spring-loaded button allows you to move the pivot to different settings. For each setting the handle has a limited range of jaw movement via the engaged "tit".
Great for the riding tool bag as it can eliminate so many other tools.
The one I bought is a bit over 7" long, but it comes in other sizes.
Used properly I don't believe it is potentially as damaging as either of the aforementioned tools.
A picture is worth a thousand words so...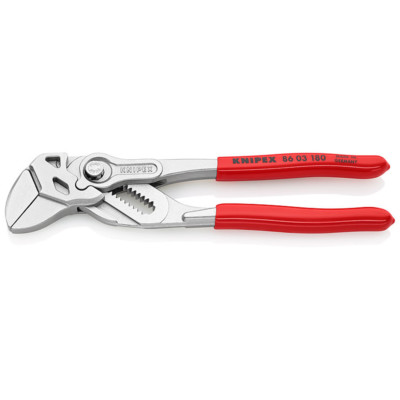 Knipex Pliers Wrench 86 03 180. Pliers Wrench 86 03 180. Pliers nickel plated. No. 86 03 180. - also excellent for gripping, holding, pressing and bending workpieces. Total length 180 mm. 180 mm length.
Last edited: