Time for an update on the Beezer.
I've been trying to ride it locally but the mag had the hot start problem. Fortunately some enterprising Brit developed a cure for this and it is called the Easycap. I purchased one of these from BritCycle supply and had my clubmate fit it plus give the mag a general refurb, new bearings,seals and points.
As of last week, the hot start problem is no more, so it's time to expand the circles of confidence with this bike.
Other small improvements I've made are-
-Replaced crudded up 28 mm Carb with original equipment type 1 5/32" 389 Monobloc, newly sleeved and rejetted to stock West coast (higher compression) Super Rocket specs.
-Replaced standard sized 21 tooth engine sprocket with 23 tooth.
-cleaned up and deglazed slipping clutch setup. Clutch now works perfectly.
-replaced banged up and partially crushed stock exhaust with Siamese headers and Gold star silencer. This was an available factory option in 63.
-replaced worn out and ineffective single leading shoe brake with 2 leading shoe brake from a 68 BSA Lightning. This is a good strong brake.
- replaced leaky Ewarts taps with new fuel taps.
-replaced torn fork gaiters
-opened up Carb insulating spacer from 1" to 1 5/32, which is stock inlet size.
-Replaced incorrect and rock hard seat with new item from RK Leighton. Very comfortable!
There are still quite a few things left to do on the bike. The rear brake is worn out and useless. The tach doesn't work. The lighting system doesn't work.
On balance though, it turned out to be a good machine. The engine runs beautifully now and pulls nicely, though it is not a hotrod like the 650ss. The engine has had a recent full go thru and tested at 98 percent on leakdown, the same as my new build 1360 Vincent engine. The engine has had the SRM needle roller conversion on the timing side main plus the SRM oil pump conversion. It doesn't wet sump even if left sit for two months
Everything inside of the primary also appears to be new or near new. The bike shifts well and is really quite smooth for a solidly mounted parallel twin.
The engine/trans/primary work was said to have all been professionally done 530 miles before I bought the bike. The condition of things does tend to make me believe the seller was truthful with that number.
It is not a fast bike by any stretch but it does pull nicely through the gears with minimal need for revving. It's not a bike the begs to be revved like a Commando or the SS. It will pull out from a stop and merge with speeding traffic very easily with just one third throttle or so, quite surprising really. But then there isn't really much more to be had in the other two thirds of the throttle. In short, a very torquey ride.
Funny thing, I have this lovely new Thruxton R to ride, but all I could think about while travelling last week was getting home and trying out the old BSA with it's repaired magneto:-) It's an old sweetie of a bike.
Glen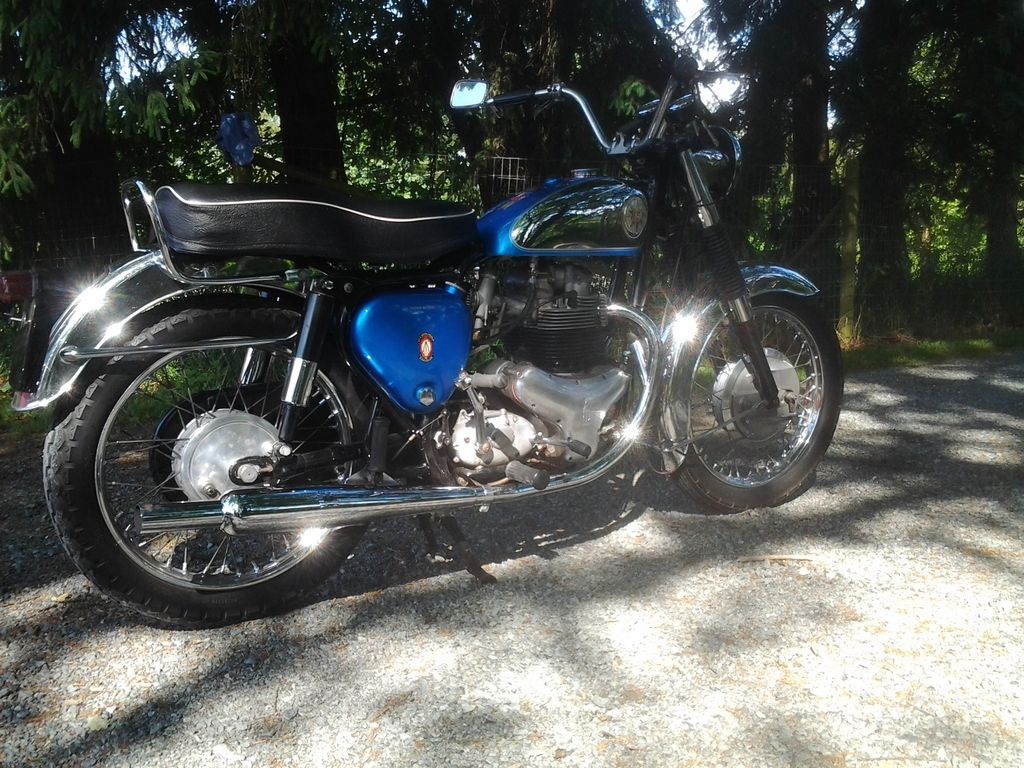 Here's the new 2 ls brake from a 68 Lightning wheel. I purchased the rusty Lightning wheel complete for $100. After a couple of hours cleaning, the brake hub looked decent. The shoes were almost new.
The 2 ls brake fit into the existing Super Rocket hub without drama.