2 weeks ago I had a friend send me an e-mail that just said "I thought you might be interested in this" and sent me a link to a craigslist ad featuring a 1970 Norton Commando Chopper. Needless to say, I e-mailed the owner of the bike and said if he had a clear title, I would take it. This was at about 7pm on Tuesday. I got an e-mail back early Wednesday am just saying, "Yes I have a title. Call me in the morning" The morning couldn't come quick enough for me. I finally called him around 7:45am and discussed the bike. He was the second owner from new, he purchased it in '74 from the original owner. Someone had e-mailed him, offer more then the asking price, so I had to step up to his offer if I wanted it. I told him I am on my way. He was about 2 hours away, so I was hoping I could get down there quick enough before someone else snatched it out from under me. (I had this happen on another deal, 5 minutes too late. Grr...) I blasted to our shop and grabbed the shop truck and a handful of cash and blasted down to Mansfield area.
I called the owner about 3 times on the way down, just letting him know I was on my way and where I was at. When I was going down State Route 30 and my GPS said to get off onto 314 south, I was a little surprised. I got to the guys house, which was only 4 miles from Mid-Ohio. How the bike never made it to the Mid Ohio Vintage Days Swap Meet, I will never know. I pulled into his drive and there she was, in all her Chopper glory. I talked to the guy and he said it ran 2 years ago. I didn't even kick it through. I checked the numbers and said lets load her up! I back up to his garage and we loaded her up. I asked him if he remembered what the color was when he purchased it, he said it was this weird Purple with big metal flake and said there is know way that was a stock paint job. He had it repainted years ago and the paint still is nice.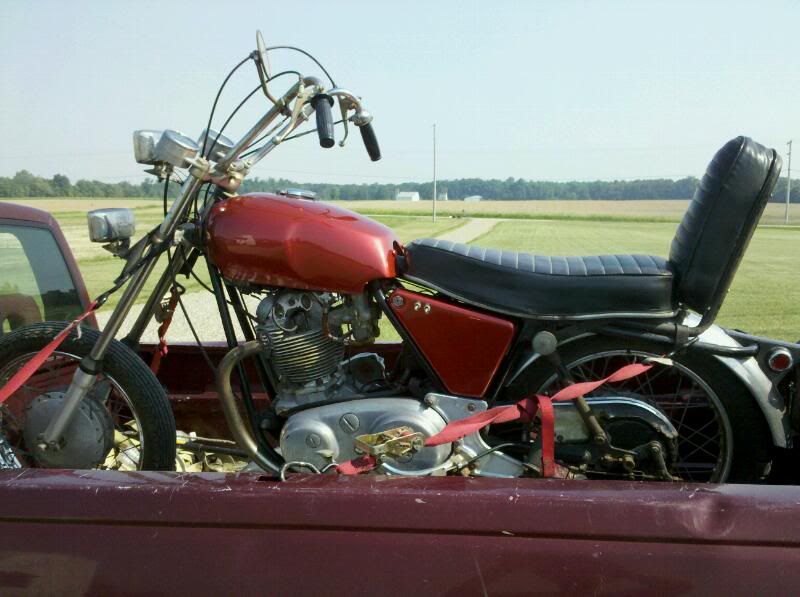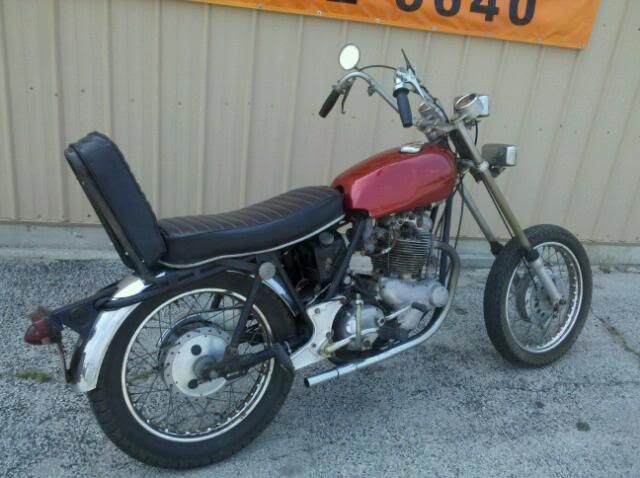 I blasted home and went back to work. I finally got to work on it a couple of days later. First thing first, new fork tubes and seals were ordered. Backrest came off pretty quick as did the custom struts. Clubman bars replace the narrow ape hangers. I also pulled the carbs apart and soaked them and rebuilt them. I realized then that I had yet to even kick it over to see if I had compression or if the motor was stuck. I threw a leg over her and crossed my fingers and gave a swift kit, kicked through and felt like good compression. I pulled off the points cover and checked for power and checked gap and everything was good. I pulled the plugs and kicked it over, we have spark!!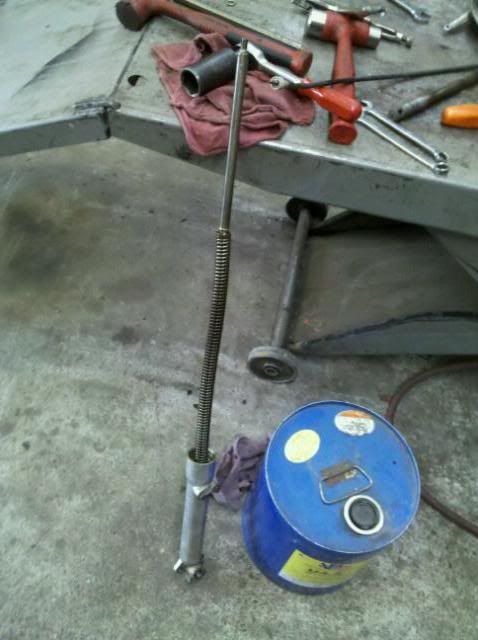 My first parts order got in Friday and I got the forks returned to stock on Saturday. I came back up on Sunday and got the front brake cleaned up and threw on a old used race tire I had from my Royal Enfield Roadrace bike. I got the clutch cable replaced and adjusted and called it a day. I had some free time yesterday and got the front brake cable hooked back up and made sure the front brake was working. I decided to try and see if she would fire up. I should've just drained the crankcase from the start but I decided to do that after I kicked her maybe 15 or 20 times. She would almost fire but wouldn't catch. I ran to NAPA and got some cheap oil as I just planned on draining it out once I got it warm. I poured in a quart and tickled the carb and VROOM she fired right up. Man did she sound good with just those head pipes on. After she was warm, I shut her down and drained the case and oil tank, cleaned the screens and reinstalled the drain plugs and filled her up with Spectro oil.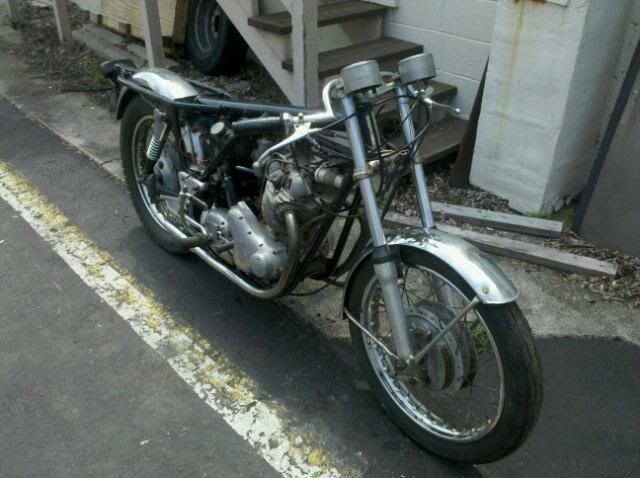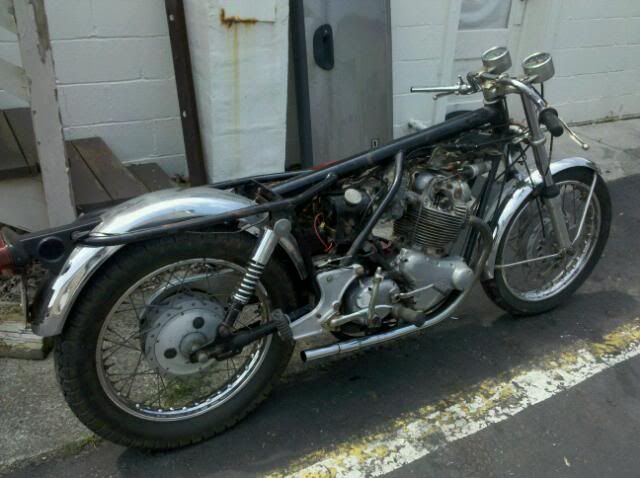 Next on the agenda is to get the tank lined and got a headlight assembly (already working on the one). I have a few questions about the wiring and other things, but I gotta get back to work now.