Hi guys, how are you? I'm the bloke some of you may have seen on the Commando page that got his bike going again after 10 years in the garage, only to wipe it out 4 days after getting it road legal and taxed.
Anyway, whilst I'm fighting the insurance company on that bike, I decided to get the other bike in my garage going. It's a 59 Matchless G3L with 500 conversion, last on the road, according to the tax disc on it, summer of 1997.
This is as much a blog for myself, maybe of some interests to others, and to ask questions and opinions along the way.
So far, I have taken the head off. Thought I could have left it all as is and try to start it, but decided to take the head off and have a look. Well, all looks good in there, needn't have taken it off but at least I can see it's still oiled and no rust or corrosions in head or barrel. There's no spark, I have SR1 mag, which was working before, so I am hoping it's just the points may be stuck. The carb's a Concentric, I stupidly junked the Monobloc in the 70's thinking the Concentric will make for easier starting and 'go faster'. but the bike's not original anyway, I have alloy chaincase with alternator, front wheel's a full width hub, brought for looks and again stupidly junked the old half width one, and I had Triumph export bars with Lucas all in one lever/switchgear as well. Only thing I kept on the bar was the choke lever. Never had decompression lever, easy enough to find compression and kick it over.
So far I know I need to do the following
a) Get it to spark
b) Clean the carb out
c) Replace main drive oil seal. Kicked it over earlier, had wet sumped and pressure blew oil out between the crankcase and primary chaincase
So initial questions:
1: do you think I can reuse the old head gasket, it's a copper one, and the old head bolts?
2: piston feels good in the bore; do you think I should lift the barrel to check the rings? After taking the head off and seeing I didn't need to makes me hesitant to take the barrel off.
3: want to put lower bars back on. Would it use to have the slightly raised Matchless bars or Norton straight bars?
Thanks guys for Part I
This is how the bike looked when last running: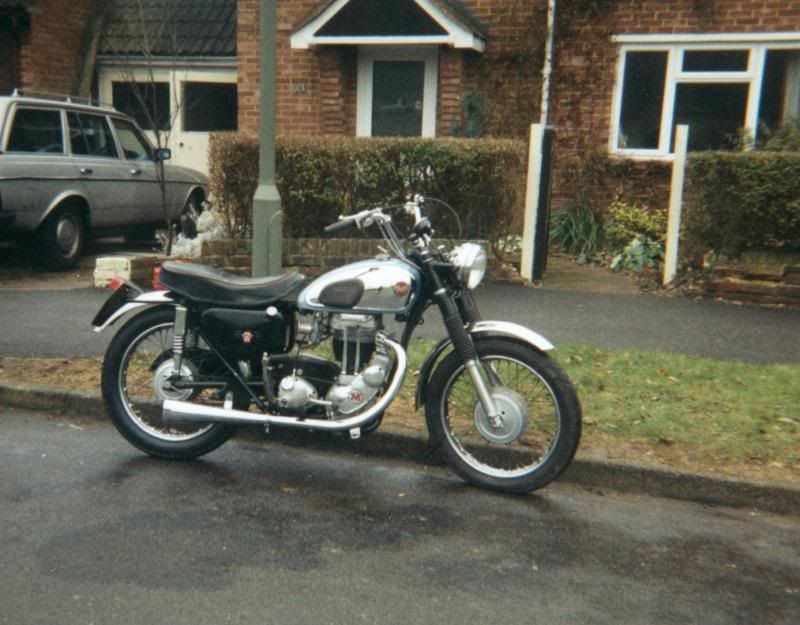 [/URL]
this is it tonight
[/URL]